TOM ROBY'S FOLKDANCE BIO AND RESOURCES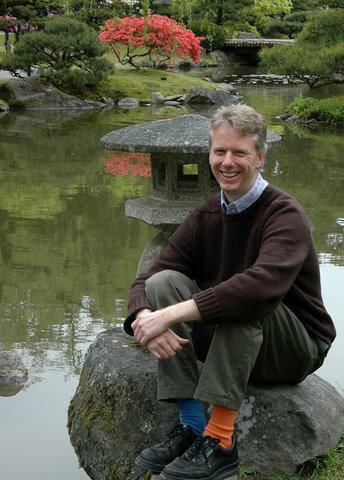 Tom Roby began folkdancing as an undergraduate at Swarthmore College and has been passionately pursuing it ever since. As a teacher, Tom is especially well versed in Balkan line dances, and in Waltz, Scandinavian, Hungarian, Zwiefache, and other couple dances. He regularly calls English Country Dances in the Boston area and beyond, and has called New-England style Contra dances for many years. He also has a keen interest in other couple dances, both choreographed and led/followed. Now based in Connecticut and Massachusetts, Tom calls dances around New England and teaches at festivals and dance weekends farther afield. He's a regular teacher at CDS Boston Centre and (with Diane Gonzales) at the montly Mostly Waltz for Boston.
Tom's goal as a teacher and caller is to get dancers moving to music as quickly as possible, while still helping them improve their style and connection to the music and each other. His teaching style is clear, lively, and fun. He continues to hone this craft, always looking for ways to mazimize teaching efficiency. Beginners and advanced dancers alike enjoy Tom's infectious enthusiasm and relaxed attitude, as well as his sense of humor and quick wit.
• Country Dance Calling
Tom is one of the six regular callers for the long-standing Wednesday Night Dances run by CDS Boston Centre, and also calls for their other series. He calls gender-free for the Lavender Country and Folk Dancers series in Jamaica Plain. He was the featured English leader for:

He has called English dances with Bare Necessities at Dartington Hall (Devonshire), in the Assembly Hall in Bath, England, and at their "home" CDSBC dance in Arlington, MA. He has called for local groups across northern California and New England. Many semesters he taught a course through UConn's First Year Programs called Dance with Jane Austen, where he introduces UConn students to the pleasures of English and American set dancing. His dance Sunlight Through Draperies set to Larry Unger's tune "Judy and Jim's Wedding", has become a favorite of many groups.

Tom started calling contra dances in Portland, OR (under Mary Devlin), then became a regular caller in Madison, WI, and the SF Bay area. He has called dances from Sacramento to Monterey and all around New England.
• Balkan & International Folkdance Teaching
Tom is an active teacher and leader at Balkan dance events in the Boston area, where he cut his dancing teeth as a graduate student. He has taught Balkan at the Arcata Folkdance Festival, frequently at the New England Folk Festival ("NEFFA"), Ashkenaz (Berkeley), and in various local groups around the country. He has partnered with Marjorie Nugent, Clare Stanley and Diane Gozales for teaching Hungarian and Balkan dances.
Tom was an active leader and teacher in the MIT Folk Dance Club from 1986–1991, where he learned many dances that are rarely done anymore. During a two-year postdoc in Japan, Tom danced regularly with the Tokyo Scottish Blue Bell Club and the Balkan group "Xoros". He also attended workshops with Tom Bozigian, Joe Graziosi, Atanas Kolarovski, Yves Moreau, and others, where they taught at about thrice the pace of a typical North American workshop. He then taught folkdancing for PE credit at Reed College (1993-95), and to local groups in Madison, WI (1995-97). After moving to the Bay Area, Tom taught Balkan dancing at Ashkenaz, the Albany YMCA, the Stanford International Folkdancers, and the Berkeley Folk Dancers weekend at Monte Toyon (assisting Neal Sandler). Since returning to New England, Tom has taught workshops for the West Hartford IFD group Always on Sunday, taught dances for the band XOPO, and continues to program and teach at various dances, including the revival of the advanced MIT Tuesday Night Balkan dance group.
• Couple Dance Teaching
Tom is constantly learning, teaching, and refining couple dance techniques from a variety of traditions. In particular:
In all of these forms, his goal is to help dancers improve their technique to make the dances as enjoyable as possible, in addition to teaching choregraphic elements in memorable ways.
Useful links
Here are links to some useful folkdance resources.
Back to my home page.